Floral Dresses: A Very British Obsession
Door Emi Baldwin - Tuesday 09 June 2015 | 15:33
Where does the British love for everything floral come from? To me, the answer is now obvious. Chelsea Flower Show of course. As far as we can all think back florals have been a huge part of fashion and I believe will be for generations to come…
Flowers are a huge part of our culture, the ultimate symbol of femininity, elegance. Flowers appeal to our senses, the smell, the beauty, it draws something from within and inspires.
Totally and utterly obsessed!!
Britain's biggest floral obsession is quite clearly The Chelsea Flower Show. This spectacularly extravagant event really does embody the best of that famously British flamboyancy. Hear! Hear!
Every year we await with baited breath this flower extravaganza. But why? Why, is such an event (that most countries would reserve purely for the over 60s) be so popular? Well-known T.V personalities, celebrities and even supermodels are seen parading around each year with their floral umbrellas. Admiring displays of floral art and ohhing and ahhing at the exhibition. The vivid colours, the chance to show-off, this display of beauty…flowers quite clearly go hand-in-hand with fashion, namely floral dresses. But what is so great about the Chelsea Flower Show, is that where modesty, which is often be favoured by us Brits, has gone out the window! Here it is an excuse to go all out! Why should clothes be any different…hence our love for floral dresses.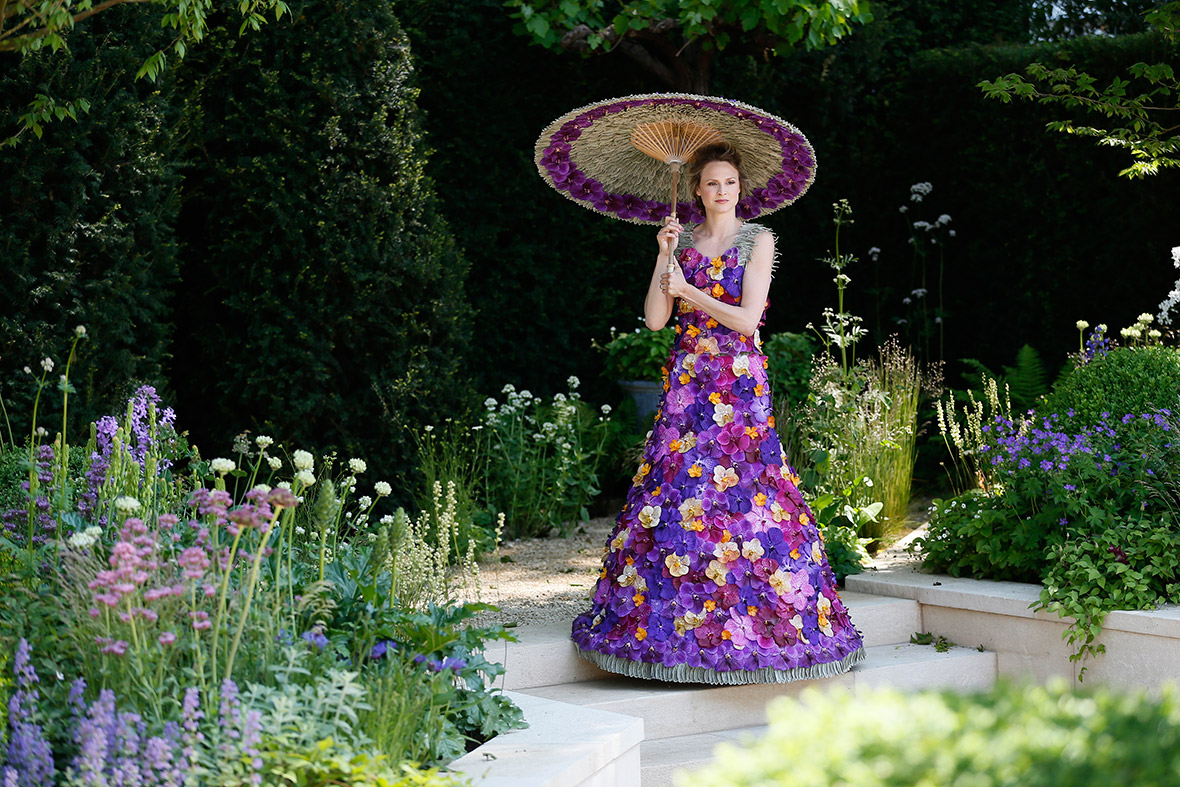 There was one photo in-particular, that we (here at MyDress) just could not get out of our heads…and that was this stunning purple gown. It evoked some dreamy fairy-tale thoughts and we became lost in the helplessly romantic need to also find our perfect purple hued floral dress. So we choose three floral dresses…
The Best of the Floral Dresses
Jaeger Carnation Dress £ 225.00,  Closet Floral Skater Dress £ 58.00, L.K Bennett Hannah Printed Shift Dress £ 195.00
Perhaps this obsession for all things floral, this quintessential afternoon tea ideology, which everyone seems to associate with us Brits, is indeed true. If you are searching for the perfect floral dress still then it is certainly worth checking out out printed dresses page or simply search "florals" in the search bar at the top of the page and find your perfect bloom!
Other great brands that our as obsessed with floral dresses just as much are; Ted Baker, Closet and Lipsy London.
P.S Did you notice those giant Jammy Dodgers?